After the official signing of the $230.5 million contract by Kyler Murray, new information has fans shocked and a bit worried about the commitment of their "franchise" quarterback.
THAT'S OUR QUARTERBACK! pic.twitter.com/KcsmSFXG6k

— Arizona Cardinals (@AZCardinals) July 25, 2022
Murray put the ink on paper this Monday morning 
---
Concerns have been expressed on social media about a few key details in the contract.
In the off-field requirements: Kyler Murray must spend at least four hours on "independent study" per game week.
Although this may seem like a normal thing, many are worried that this might indicate that the team is concerned about Murray's commitment. You would think in a contract this large; the front office would have to remind the player to watch film….
The Kyler Murray homework clause is a colossal blunder by the Cardinals. It makes him look bad for not studying enough, and it makes them look worse for giving him all that money even though he wasn't studying enough.

— ProFootballTalk (@ProFootballTalk) July 25, 2022
The contract even focuses on the definition of study time. The Cardinals gave him two examples of what study time does not consist of (paragraph 3).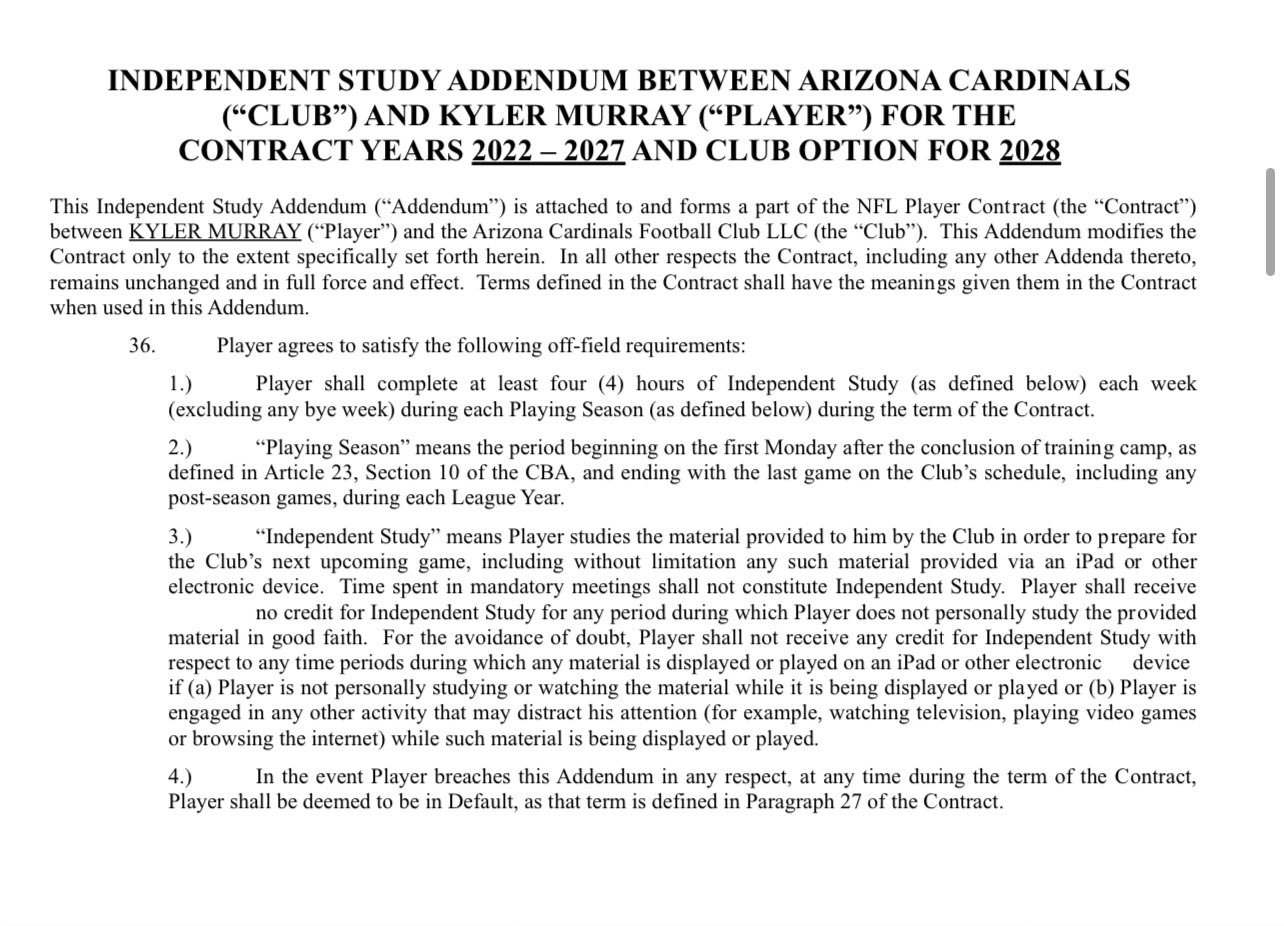 The memes have taken over Twitter as obviously, this is not a good look for the team.
Kyler Murray is getting paid $230M and must eat his vegetables before getting dessert

— TickPick (@TickPick) July 25, 2022
Kyler Murray preparing for Sundays pic.twitter.com/QgHeBuzBRE

— Stadium (@Stadium) July 25, 2022
How the Cardinals will make sure Kyler Murray completes his weekly studying pic.twitter.com/OyceWd4nVe

— Cole Topham (@HamAnalysis) July 25, 2022
With that being said, Kyler Murray has a lot of people to prove wrong this season. The questions are everywhere regarding if he does deserve to make $230.5 million.
Should fans be worried about these additional rules in the contract?